From 7 to 11 November 2022, the World Customs Organization (WCO), under the sponsorship of the Customs Cooperation Fund of Germany (CCF-Germany), successfully conducted a national workshop on Rules of Origin in Chisinău, Moldova. This Workshop, was attended by eighteen officials from the Customs Service of the Republic of Moldova.
In her welcome remarks, Ms. Lidia Ababii, Deputy Director of the Customs Service of the Republic of Moldova, expressed her thanks and gratitude to the WCO Secretariat and the donor, CCF-Germany, for their efforts, support and promptness in organizing this face-to-face workshop in Chisinău. She recalled that Customs plays a crucial role in ensuring the correct application of the rules of origin and it is very important to enhance the capacity of the customs officials in the origin area to ensure the good implementation of free trade agreements.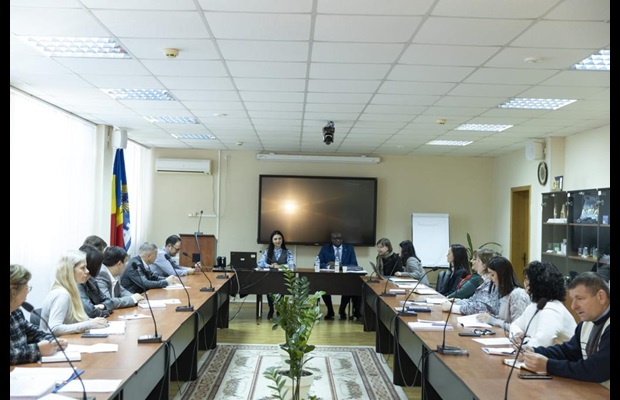 In addition, Ms. Ababii emphasized that 'the European Union and the Republic of Moldova signed an Association Agreement in June 2014 which entered into force in July 2016. The Deep and Comprehensive Free Trade Area (DCFTA) is an integral part of the Agreement and it is an example of the integration into the EU Single Market. DCFTA boosted the trade between the Republic of Moldova and the EU and thanks to the benefits if offers today around 60% of Moldovan products are exported to the EU Member States."
During the Workshop, the WCO facilitators presented various technical and practical issues for proper origin determination, including the Guidelines on Origin Certification, Preferential Origin Verification, Advance Rulings, and Origin Irregularities, which have been designed to assist WCO Members in smoothly running origin related procedures. And many in-depth rules related to origin such as accounting segregation, cumulation, direct transport and self-certification were interactive discussed during the workshop, which shed the light on the correct application of the rules.
Participants discussed specific areas of concern, including overlapping trade agreements and the use of FTAs and challenges related to administrative cooperation. The discussions also highlighted the importance of verifying the originating status of goods, rather than merely checking the authenticity of the Certificate of Origin.
The knowledge and experience gained from the Workshop will assist the Administration in the correct application of Moldova's Free Trade Agreements, in particular the Pan-Euro-Mediterranean preferential Rules of Origin and will help Moldova benefit from this Convention and promote exports of originating products while ensuring a correct application of preferential treatments for importations.
The Workshop concluded successfully with positive feedback from participants who greatly appreciated the insights and experiences shared during the 5-day event.