At the invitation of the Central Asia Information Coordination Center for Combating Illegal Drug Trafficking, Executive Officer of the Regional Office for Capacity Building for the World Customs Organization , Haji Hajiyev, participated online in a parallel event held in a hybrid format within the framework of the 66th session of the UN Commission on Narcotic Drugs in Vienna on March 14, 2023, at the initiative of CARICC.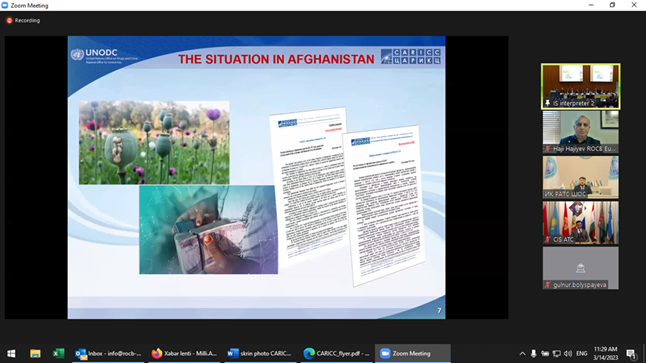 At the event, the representative of the ROCB Europe , the heads of competent authorities and foreign policy departments of CARICC member states, Ms. Ashita Mitall, the regional representative of the UN in Central Asia, permanent representations of countries in international organizations in Vienna, observer states in CARICC, International Organizations, as well as donor and partner countries' representatives participated. At the event, the director of CARİCC Yazlıyev A. underlined that the Center he leads continues to be an organization that fulfills its duties properly in the fight against transnational organized drug crimes.
Then, the first head of the Foreign Minister of Foreign Affairs, Kayrat Umarov, made a speech of welcome. In his speech, the head of the Kazakh delegation emphasized the importance of CARICC as a regional anti-drugs organization and was able to withstand the challenges and threats in the fight against transnational drug crime in the background of the increase of large-scale smuggling of opium and methamphetamine  to other countries and the increase in drug production in Afghanistan.
In the welcoming speech of the regional representative of the UN in Central Asia, Ms. A. Mitall mentioned the importance of mutual practical interaction in the fight against organized crime, as well as the necessity of financial support of the CARICC project by the participating states and donor countries.
In addition, the leaders of the authorities of Azerbaijan, Kyrgyzstan, Tajikistan, Turkmenistan and Uzbekistan made a speech of welcome and noted the role of the Center in the fight against transnational drug crime and its opportunities in the Central Asian region.
Employees of law enforcement agencies and international organizations and partners of the Center also participated in the event.