On April 14, French Customs handed over to Peruvian authorities 9 archaeological objects seized in 2012 by the Poitiers customs brigade during a traffic check. Ornamental jewelry, adornments, ceremonial objects, ceramics, from the Cupisnic (1000-200 BC) and Chimu (900-1400 AD) cultures will find the heritage collections of Peru.
On September 22, 2012, officers from the Poitiers Surveillance Brigade intercepted a vehicle registered in Spain during a traffic check on the motorway. Examination of the chest and its cargo revealed 9 objects that appeared to be pre-Columbian art objects.

As the owner could not present proof of origin for these goods, agents seized the goods and requested expertise. A first expert, an American archaeologist from the National Museum of Natural History in Paris (MNHN), confirmed the presence of Peruvian archaeological objects over 100 years old. By judgment before saying must, the TGI of Poitiers requested in September 2014, a new analysis. Carried out in August 2014 by an expert in pre-Columbian art near the District Court, this second expertise confirmed the authenticity of the 9 confiscated objects belonging to different periods of pre-Columbian culture between 1000 BC. J-C and 1400 AD. J-C.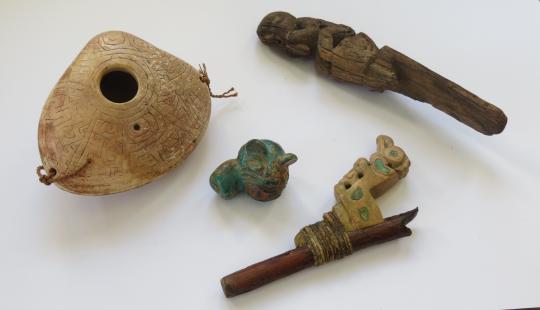 Source & full text: French Customs