As 'Corona Virus Disease 2019', short form of which is used as Covid-19 made its mark on the year 2020, one of the most affected areas has been doubtlessly travel. One of the early reactions by the governments had been closing the borders for inbound or outbound travel or both, either by land, sea or air. Passenger transportation took a big hit while it was prohibited to leave even apartments in some countries under certain conditions.
There has been no uniform set of measures implemented by the governments. As there have been different approaches globally with respect to taking the coronavirus under the control, each of those initiatives resulted in varying degrees of achievement with a view to curbing the transmission of the virus. That situation also gave way for implementing restraining provisions by the governments that would not have been in place otherwise.1 In that sense, the world has seen measures taken in a very short time with high level of strictness.
As restrictions on international travel policies are reviewed, it is understood that more globalized countries have a delay in implementing such limitations as compared to the first officially reported Covid-19 case. Informational and political globalization play the strongest role in delays whereas there has been no established connection for globalized countries in terms of adopting more or less effective travel restrictions to initially tackle the coronavirus. An analysis carried out by Bickley et al. finds that there is a significant and positive correlation between the KOF globalization index and delay for international travel restrictions since the first day of confirmed Covid-19 case.2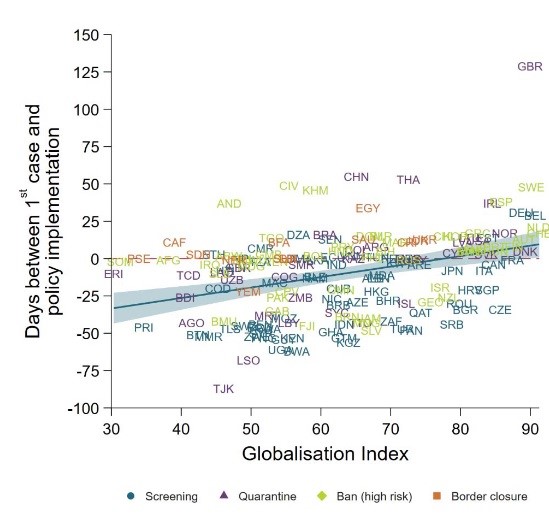 The chart built upon the analysis indicates passing more time in placing measures as the level of globalized characteristic of the country elevates.
Nevertheless, the varying degrees or delayed timing of those measures did not particularly lessen the magnitude of the punch on travel. The global travel sector hit by disruptions because of certain restrictions for travel and touristic places. The number of countries that halted incoming travellers has been more than 110. In anyway, all countries implemented a certain degree of restrictions for incoming passengers. Those restrictions have been varied from being completely closed as total travel bans to banning travels from certain locations with high number of Covid-19 cases.3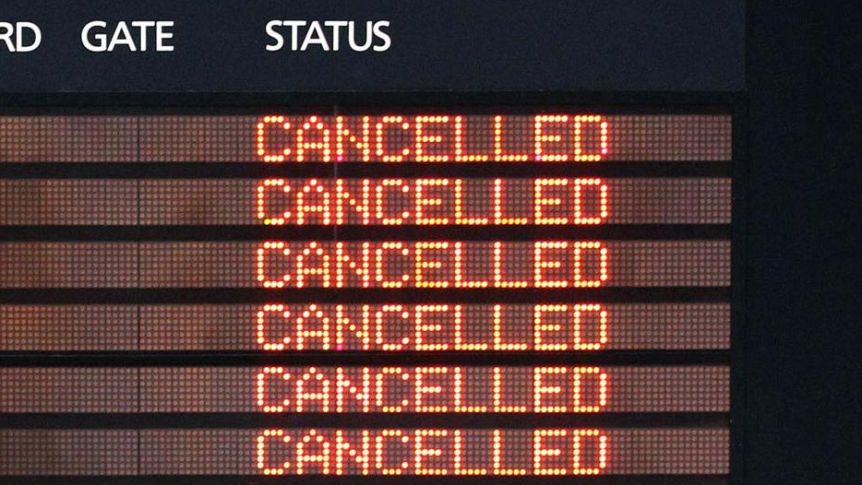 As international travel is affected on a large scale with the downturn on tourism, the pandemic is still a factor in terms of changing preferences and avoiding risks. Since the adverse effect is heavy on international travel, the airline industry has been having difficult times as a result of measures put in place against coronavirus. The decline in scheduled flights is 65%.4 The figure is self-explanatory for acknowledging the depth of the potential damage.
In the meantime, rising level of limitations on passenger travel brought an increase for trade costs in the mid-term reflecting a 12% increase for countries and sectors. Differences in these dimensions stemmed from essentially production structure and regulations in the pre-pandemic period. Therefore, if the measures implemented against pandemic were removed as much as possible, economic recovery would be boosted.5 However, lifting measures altogether does not seem likely to happen in the near future.
Linkages among the sectors that have been affected would create bottlenecks for other sectors one way or the other, directly or indirectly. In simplistic terms, bans on travel affects trade which in turn weakens economic and financial course. A gradual increase in taking the coronavirus under control and easing limitations would therefore help putting pre-pandemic figures back. This all means that even though restrictions and measures implemented in the struggle for eliminating the negative effects of Covid-19 were lifted or eased off, the lingering impact of the pandemic would still be here to stay for a considerable period of time.  
* The phrase 'Have X, Will Travel' is used for taking a journey when having a particular ability.
---
References: