It is absolutely no secret that the current Coronavirus (Covid-19) spread has also affected the global trade. Even though there is no halt, international trade carries on its way within the frame of certain precautions and measures in the face of the disease.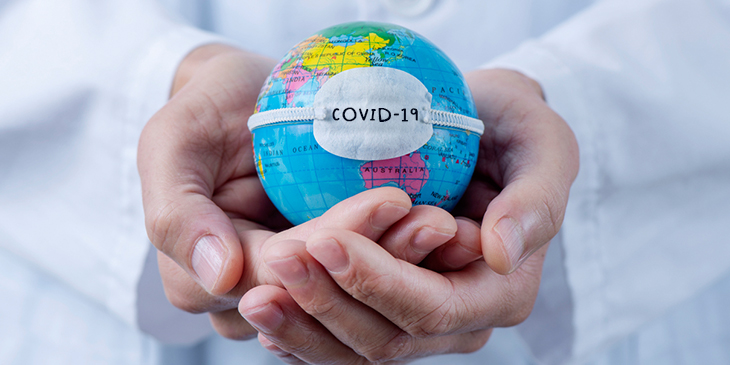 Academic researchers find that even though exports and imports are affected principally by intrinsic characteristics, uncertainties driving from global, regional and country-specific spheres affect these elements by a considerable figure, as much as 40%. Moreover, the imprints of these factors rise in the event of a crisis.1 Therefore it would be only natural to expect that international trade would take a beat.
As the Coronavirus deflects the course of global value chains, the continuity and rearranging it rests with policymaking.2 Initial prospect for the global growth for the year 2020 was 3.3% by the International Monetary Fund. That is, there had been no critical factors on the way as for risks before the Coronavirus. Still, enhanced cross-border cooperation in the context of multilateral cooperation was among the highlighted reccomendations.3 After all, international collaboration has always been a case in point. Now it appears that there is a need for reinforcement on the matter.

As for estimates, initial ones pre-Coronavirus do not seem to be making their cases anymore. Estimates are being reassessed which brought about downturn signals. The World Bank forecasts a -3% decrease in global economy for 2020 as the pandemic poses severe impacts. On the bright side, the estimate is 5.8% for 2021. The World Bank also underlines the importance of political support and multilateral cooperation for tackling down the effects of Covid-19.4
As countries move toward taking precautions in cross-border movements, there have been various practices with regard to international trade processes. The World Customs Organization asked its Members to submit their implementation experience on facilitating the movement of goods while applying appropriate risk management; enhancing communication, collaboration and cooperation with the partners, the government agencies and the private sector; and measures taken to protect Customs officers. The Organization also published useful information for facilitating the movement of relief goods.5 Subsequent to the short-term vortex faced due to Covid-19, trade paths and customs procedures have found their new normal.

The Coronavirus seems to be lagging for some period of time. However, lessening the adverse impacts of the pandemic seems to be possible with a robust policy backed by a strengthened multilateral cooperation. Delicately designed schemes and immediate and thorough connection channels matter even more now. 
---
Resources:
1. A Note on the Time-Varying Impact of Global, Region- and Country-Specific Uncertainties on the Volatility of International Trade
2. Corona-shock Hits the Economy – To What Extent Finland Is Dependent on Global Value Chains
3. World Economic Outlook Update (January 20, 2020)
4. World Bank Group President Malpass: Remarks to the Development Committee
5. Message of the WCO Secretary General on the Coronavirus