Message of the Head of ROCB Europe
Welcome to our website!
I am very proud to welcome you to the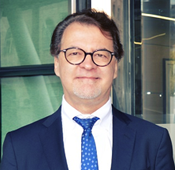 new website of the Regional Office for Capacity Building (ROCB) for the World Customs Organization Europe Region. Since the establishment in 2011, ROCB Europe has continuously developed into a regional competence center for Capacity Building. Our missions include assisting Customs Administrations in the WCO Europe Region in their capacity building programs at regional level in line with the WCO Capacity Building Strategy, increasing the regional customs relevance and ensuring effective implementation of the WCO's global standards and tools for building institutional capacities of the WCO Europe Region. I am very proud to lead the ROCB Europe's future.

Our website has been redesigned to make it easier for you to navigate and access information quickly on recent and future Capacity Building activities and trends. All information is pooled with the aim of facilitating the tasks our stakeholders in carry out by assisting them in a variety of Customs areas, from training issues to the policy problems that require serious knowledge about the region.

Highlights of our new website comprises improved navigation design and a new interactive platform to support a quick and better communication.

Much of the website is now available without having to login, making it more convenient for the visitors to access our resources. Some areas will require you to log-in. I do hope that you find the new website both appealing and useful, and I welcome your feedback. Please send us any comments you have via the Contact Us link on the website.
Thank you for your visit.

Roger Hermann,
Head of the Regional Office for Capacity Building
for the World Customs Organization Europe Region.