Capacity Building
Regional Offices for Capacity Building


The Regional Offices for Capacity Building (ROCB) are the cornerstone of the Region's approach to capacity building as laid out in its Capacity Building Strategy.
Their mission is to assist member Customs administrations with their capacity building programs at regional level by helping them:
to identify more accurate capacity building needs and possible solutions;
to enhance the coordination of capacity building activities with regional members and the WCO Secretariat;
to monitor projects;
to improve networking with donor agencies and relevant organizations;
to use resources more cost-effectively; and
to coordinate the use and implementation of WCO tools and practices in the Region.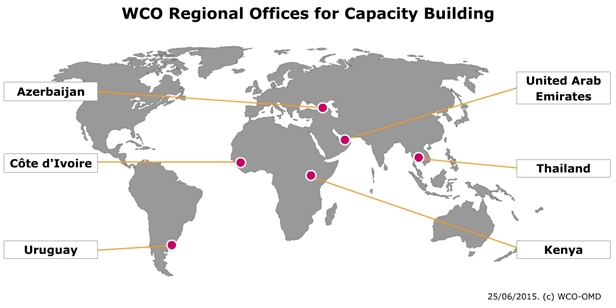 The Capacity Building Strategy
The WCO Secretariat, following an extensive review of the global market for customs development and the development tools provided has established a comprehensive  strategy  for the sustainable ongoing development of Customs and Border Management Services to meet the demands of Member Governments for the 21st century.
The strategy was approved by the Council in 2003 and recognises the key economic role of customs either as a primary or secondary function to
Manage the international supply chain
Provide social protection
Generate economic statistical
Maintain revenue streams
The WCO Capacity Building Strategy is an ambitious, dynamic, yet pragmatic approach to meet the role of Customs in the 21st century.  Further, it reflects the need for individual Members to take responsibility and ownership for their own development as well as to create and manage their own capacity development programmes.
The WCO defines capacity building as
"All Members of the WCO having the capability to :
influence, construct and manage policies which meet national requirements, regional and international obligations; and
implement and sustain the appropriate operational policy, support systems and procedures to meet these obligations."
Implementation
Capacity building is development and implementation. It is about taking decisions and delivering results. Implementation need not be complicated, but to be successful there has to be a strategic, holistic and structured approach to prioritized, practical, operational activities based on proper needs assessment.
These are the main and most important principles of the WCO capacity building strategy :
Political will, leadership and commitment are essential for successful capacity building.
Holistic development, which looks at the impact of changes across the whole of the Customs service, must be coupled with a sustainable implementation approach.
Customs services must be empowered to take full ownership of the capacity building programme.
There must be a steering vision of the results of capacity building, with concrete targets, recognized programme management techniques, and measurement of implementation and results.
Integrity must be an integral part of the capacity building programme, implementation plans and projects.
Partnerships at the global, regional and institutional levels between Customs, trade, donors, development agents and academia are essential.
To support the implementation of the strategy a number of policies, tools and services have been and continue to be developed, these include:
The Orientation Package For Decision-Makers- " Support for Customs Reform & Modernization "
The Training Development Strategy 
Strategic planning support
Programme planning support
NII procurement support
IT Procurement support
Expert recruitment support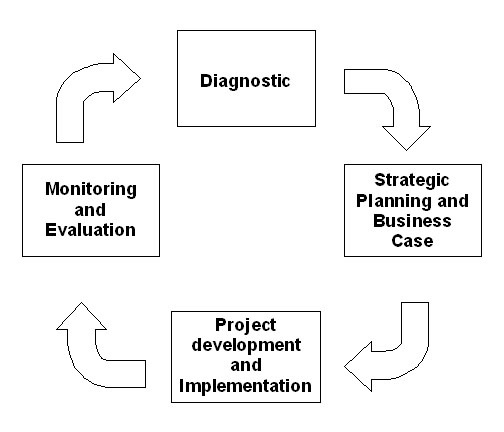 Capacity Building Regional Approach
The WCO Secretariat has devoted a great deal of attention to improving the quality, relevance and availability of its capacity building activities which led to the development of the  WCO Capacity Building Strategy . A core aspect of this Strategy involves the "Regional" approach, the objective of which is to promote the sharing among neighbouring countries of ideas and actions to achieve the same regional objectives, namely, economic growth and social development.
A regional approach to capacity building has various advantages: it ensures efficient and effective allocation of the WCO's limited capacity building resources and enables the capacity building initiative to focus on those areas where the maximum potential for regional co-operation and synergy lies.
Moreover, it is anticipated that "regionalised" capacity building will contribute to the facilitation of regional co-operation and ensure enhanced coherence and synergy of capacity building activities pursued by different donors in each region, which would bring about a significant increase in the quantum of funding and technical support currently available.
Donor partnership in the Columbus programme
An encouraging development for implementation of SAFE Framework of Standards is the high level of donor support for the programme which has ensured that an aggressive approach can be taken to the delivery of the Columbus programme.
Funding, human resources and expertise have been contributed by multiple WCO development partners; international organizations and agencies, national Customs administrations and governments.
Direct funding through voluntary financial contribution from members
Direct funding has been provided to the Secretariat by: Italy, Japan, Norway, South Africa, Sweden, the United Kingdom, the United States
These funds have been used to conduct diagnostic missions and the regional workshops of the Framework of Standards and will be used in Phase two of the programme to support action plan development and pilot projects.
Contribution with human resources for pool facilitators
The pool of facilitators for diagnostic missions has been drawn from many countries, such as :

Argentina

Brazil

China

Japan

Russia

Australia

Burkina Faso

Denmark

Kazakhstan

South Africa

Azerbaijan

Canada

Finland

the Netherlands

Sweden

Bermuda

Cap Verde

France

New Zealand

United Kingdom

Bolivia

Chile

Hong Kong China

Norway

United States
Global Dialogue on Capacity Building
There is a need for a global dialogue on capacity building. Institutional weaknesses in the public sector, throughout the developing world, are a major constraint to development. A forum on capacity building is an effective way to exchange good practices and ideas that may be transferable to other regions and situations.
Obviously there is no single recipe for success, but dialogue in the customs area, for example, can lead to a very positive standardization of practices among customs administrations, helping all to cooperate and become more efficient, and leading in the direction of integration and trade facilitation in a secure framework.
Two Global Dialogues on Capacity Building took place in 2007 and 2008 respectively, aimed at promoting long term partnerships and engagement; a pre-requisite for sustainable development.